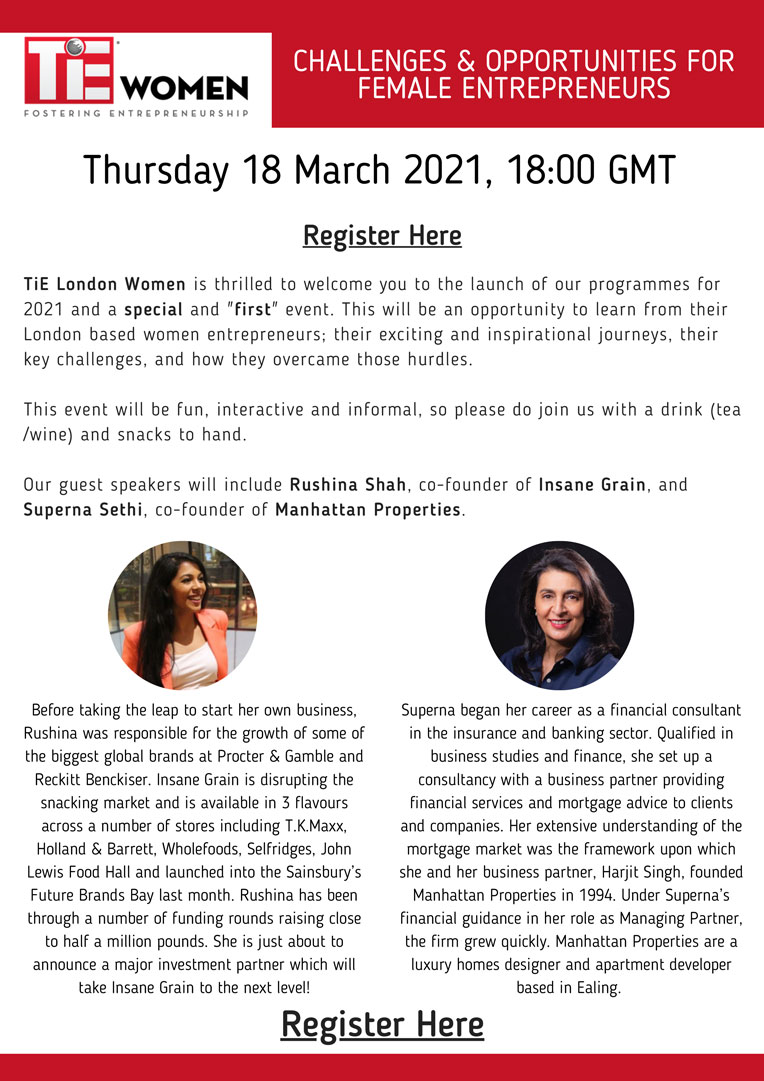 Challenges & Opportunities for Female Entrepreneurs
TiE London Women is thrilled to welcome you to the launch of our programmes for 2021 and a special and "first" event. This will be an opportunity to learn from their London based women entrepreneurs; their exciting and inspirational journeys, their key challenges, and how they overcame those hurdles.
Our guest speakers will include Rushina Shah, co-founder of Insane Grain, and Superna Sethi, co-founder of Manhattan Properties.
Before taking the leap to start her own business, Rushina was responsible for the growth of some of the biggest global brands at Procter & Gamble and Reckitt Benckiser. Insane Grain is disrupting the snacking market and is available in 3 flavours across a number of stores including T.K.Maxx, Holland & Barrett, Wholefoods, Selfridges, John Lewis Food Hall and launched into the Sainsbury's Future Brands Bay last month. Rushina has been through a number of funding rounds raising close to half a million pounds. She is just about to announce a major investment partner which will take Insane Grain to the next level!
Superna began her career as a financial consultant in the insurance and banking sector. Qualified in business studies and finance, she set up a consultancy with a business partner providing financial services and mortgage advice to clients and companies. Her extensive understanding of the mortgage market was the framework upon which she and her business partner, Harjit Singh, founded Manhattan Properties in 1994. Under Superna's financial guidance in her role as Managing Partner, the firm grew quickly. Manhattan Properties are a luxury homes designer and apartment developer based in Ealing.