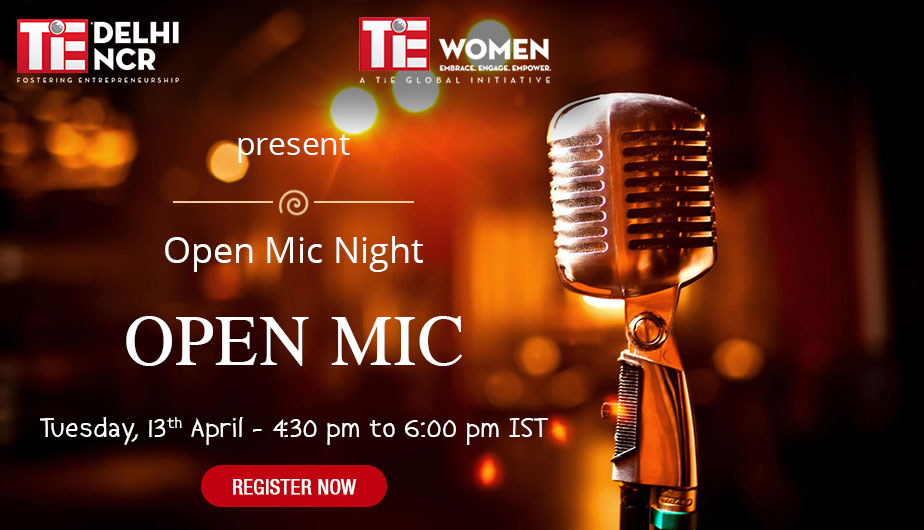 Open Mic Night
TiE Women Global's monthly Startup Open Mic Nights are not your typical meet and greet. It's an exciting night of networking and pitching!
TiE Delhi-NCR is this month's proud host of the "Open Mic Night"
What is TiE Women Global's Startup Open Mic night?
Open Mic is a fun way to get to know fellow entrepreneurs and network with the TiE community that includes angel investors, venture capitalists, startup-focused service based providers, mentors, and a large community of other successful entrepreneurs, but it's also a real opportunity for you and your business to receive the right type of exposure to the right people, right now.
Who can get on this editions mic?
Startups founded or co-founded by women entrepreneur and shortlisted by us will have 3 mins at the microphone to introduce themselves, pitch their business or raise pertinent discussion points/ asks from the audience.
What should you (ones pitching) prepare?
Your 3 mins pitch. We provide you the floor to get the exposure you want, and practice answering questions from a friendly audience, so come prepared to really harness the opportunity.
Who can attend?
You don't have to be a TiE member to attend, although we hope you'll join! This event is open to entrepreneurs, angel investors, vcs and all of you who are looking to build a network. As a startup not pitching, you can use this as an opportunity to learn from the ones pitching and interactions with jury thereof.

Program Logistics:
Date: 13th April, 2021
Time: 4:30 pm – 6:00 pm